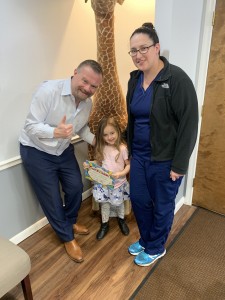 While we know the current state of the world is uneasy and stressful, we wanted to share some good news regarding one of our patients who's had incredible success in our care.Dr Chris & Caroline E.
For the past five months, we've had the pleasure of adjusting a child who came to us after being told she'd need surgery to correct severe torticollis. Torticollis is an issue that some children experience which causes the head to tilt downwards. Sometimes, children dealing with torticollis may have a limited range of motion with their head, experience neck pain, headaches and in this instance, even speech delay.
As her mother was seeking an alternative to surgery, she found ViVO Chiropractic ® and decided to see if chiropractic might help.
We're happy to report that after five months in our care, this young patient is thriving and surgery is no longer in her future. Through focused care with Dr. Chris, chiropractic has strengthened her problem areas and spine, allowing healing to begin to take place. While there is still some work to be done, the child and her parents couldn't be happier with their results so far. Even the child is thrilled with her results—we're always so happy to see her in our care and she even skips into the adjustment room ready to go!
If you know a child dealing with torticollis and facing surgery, let their parents know about the benefits of natural chiropractic care before going under the knife. If you or someone you know has any questions, we're just a phone call away.
We look forward to speaking with you soon and helping you achieve your goals in health!