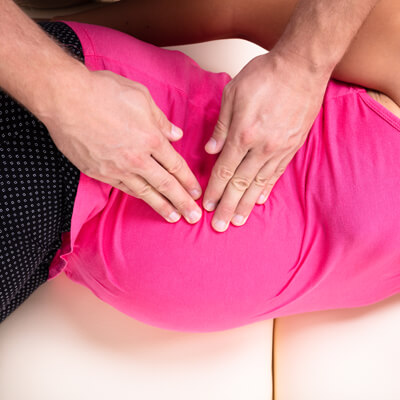 If you ask any pregnant woman how they're doing, most will tell you they're incredibly uncomfortable. We've all heard of the rare few that remain pain-free, but this is simply not the case for the masses. Luckily, Dr. Webster introduced a chiropractic technique to keep you and your growing baby comfortable from month one to month nine.
When it comes to pregnancy, chiropractic care does so much more than help with low back pain.
We are here to tell you all about the benefits of
prenatal chiropractic care
, and how the Webster Technique might help both you and your unborn bundle of joy thrive!
One Step Ahead of Your Body
The mother's body undergoes rapid transformation almost immediately after she becomes pregnant. Unfortunately, the amount of change and speed with which it takes place puts a lot of stress on her body as it tries adapt to her growing baby. This is where we come in handy.
Our doctors use the Webster Technique to keep expectant women's bodies aligned throughout their pregnancies. This tried-and-true approach to prenatal chiropractic care was specifically designed to do more than address low back pain. It was created to prepare the female body for a healthy pregnancy, keep it functioning optimally during pregnancy, and help it heal following easygoing labor and delivery.
As soon as you see that little pink plus sign, we want to see you in our clinic. Stay one step ahead of your body. Let us be sure you are aligned, as your body shifts its shape to create life.
Why the Webster Technique?
There are several muscles and ligaments that attach to the pelvis. When unbalanced, the pelvis often locks up. This puts unnecessary stress on the uterus and expresses itself in physical pain. If left alone, this misalignment can also affect your baby's ability to move inside you. In worst-case scenarios, we see this result in breech presentation.
The Webster Technique is a safe, gentle way to prevent the pelvis from binding— ultimately, allowing your growing baby the space they need to develop.
And you will have minimal pain while pregnant, and recover quicker after your little one arrives.
Your Chance to Glow
Why continue your pregnancy in agony? We are here to help you anticipate your new addition with utmost comfort and joy. Now is your chance to glow.
Here at ViVO Chiropractic ®, we look forward to supporting you during this magical time in your life. Contact us to find out more and schedule your appointment.